5 Reasons to Keep a Travel Diary
Have you ever come across a person in a café or a train busy scribbling or coloring in a diary or a journal with a faraway look on her face? I have come across many such travelers who chronicle their travel journeys in little note books. Needless to say, these world travelers have inspired me to keep a travel diary as well, though I don't write in it religiously.
Since I have packed and unpacked more times than I can count and I can think of 5 reasons to keep a travel diary.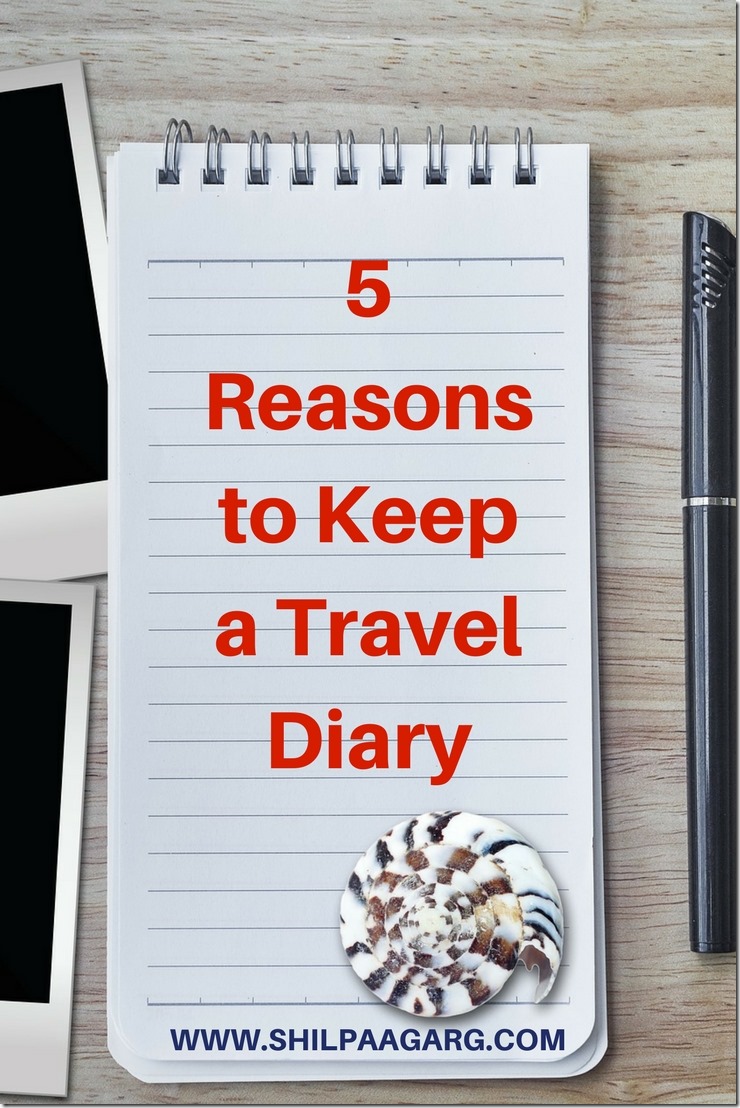 Travel Diary or Travel Journal is a collection of your travel stories, adventures, memories and moments. Why write them down, when you can collect these memories through blog posts, photographs, social media or a diary app? That's because…
1. There's no better keepsake than a notebook. They can be tucked away and stored in bookshelves to be revisited over and over again. And because there is something extraordinary about opening a crisp new notebook and writing at the top: Day 1 of my trip to…
This slideshow requires JavaScript.
2. Memory is a slippery eel. I clicked hundreds of pictures with my new camera during one my earlier trips to Jammu and Kashmir, with not a single word about the trip. Today, I have a folder full of images of people and places I no longer remember. I remember saying "It's so beautiful, I can never forget it." And now… it's all hazy. Daily accounts with pictures, itinerary, currency, drawings, maps, ticket stubs, and visiting cards in a diary bring all the memories of a trip back to life.
3. References and Tips. A travel diary is a vault of information. It has the hotels with good and bad experiences, the travel guide who went the extra mile, the food that you loved, the market that captured your heart, the cabbie who helped you… It has all the practical info that you may share with some other traveler or use it again on your next trip.
4. It is therapeutic. Travel isn't always pretty. Sometimes there are mishaps, tears, jet-lag, delayed flights, headaches and nasty experiences. In these moments, writing in a diary or even doodling has the ability to calm our minds so that we are better able to handle mishaps when we travel. Travel diaries like the personal therapists, let us rant and help manage our frustrations and worries.
5. To capture the uniqueness of the experiences. Usually we talk about our experiences in a very superficial way. For instance, Taj Mahal is beautiful or it's very serene at Pangong Lake. But what does that really mean? How did I actually feel while I was looking at these things? Reflecting on the beauty or capturing the feeling of the moment, or writing some unexpected moments or beautiful conversations is important. If you're not processing the information at that time, then the memories just aren't formed. You may capture a hundred pictures in the camera, but when you look at them later, it won't be the same.
You can truly transform your travel experiences by taking to the written word instead of the electronic devices. Go ahead and start journaling your travel adventures and tales. Believe me, your older self will be thanking your younger self for creating this!!
Do you have a Travel Diary? If not, why? Please share in the comments below.
My theme for this year's Blogging from A to Z April Challenge is Notes from the Road, which has my thoughts, views, experiences, tips, stories inspired by my years on the road.