A to Z of Travel Essentials You Need for Your Holidays
Whether you are a seasoned traveler or an infrequent traveler, there are always a handful of items that you'll inevitably forget. Frustratingly, it's always something that you can't live without. For instance, I forgot my toothbrush last time. While you may get it from the hotel but some hotels like OYO Townhouse charge an exorbitant price for it. And that truly hurts.
Also, what you pack or rather not pack can make your journey a delight… or distressing. A neck pillow will leave you rested and refreshed after a long flight, while absence of comfy shoes will make you hunt for a shoe store as soon as you arrive in a new city.
Here's the list of travel essentials from A to Z that you must never leave behind.
Apps on Your Smart Phone that help with maps, language, directions, time, money conversion, weather are a must. Other travel related apps like Airbnb, Skyscanner, Uber, Foursquare, Zomato, MakeMyTrip etc are a blessing too.
Backpack or an extra bag to keep a pair of clothes and other essentials with you and also for the gifts and goodies that you may buy for yourself and family.
Cash, Cheques, Cards – Credit/Debit
Document Wallet with Documents that holds all your travel related information for easy access.
Electronic Devices and their Chargers. Since I travel for work mostly, I even carry my hard drive along with laptop and sometimes projector too.
Footwear. Freaks like me not only carry sport shoes but heels and flip flops too.
Glue? Yes, it has a thousand uses, apart from sealing a flapping shoe sole and a cracked suitcase.
Headphones to not only cancel the noise around but also to listen to your favorite music in peace.
Insect Repellents are a must especially if you are out in the wild.
Journal to record your travel stories, adventures, memories and moments.
Kindle to read books.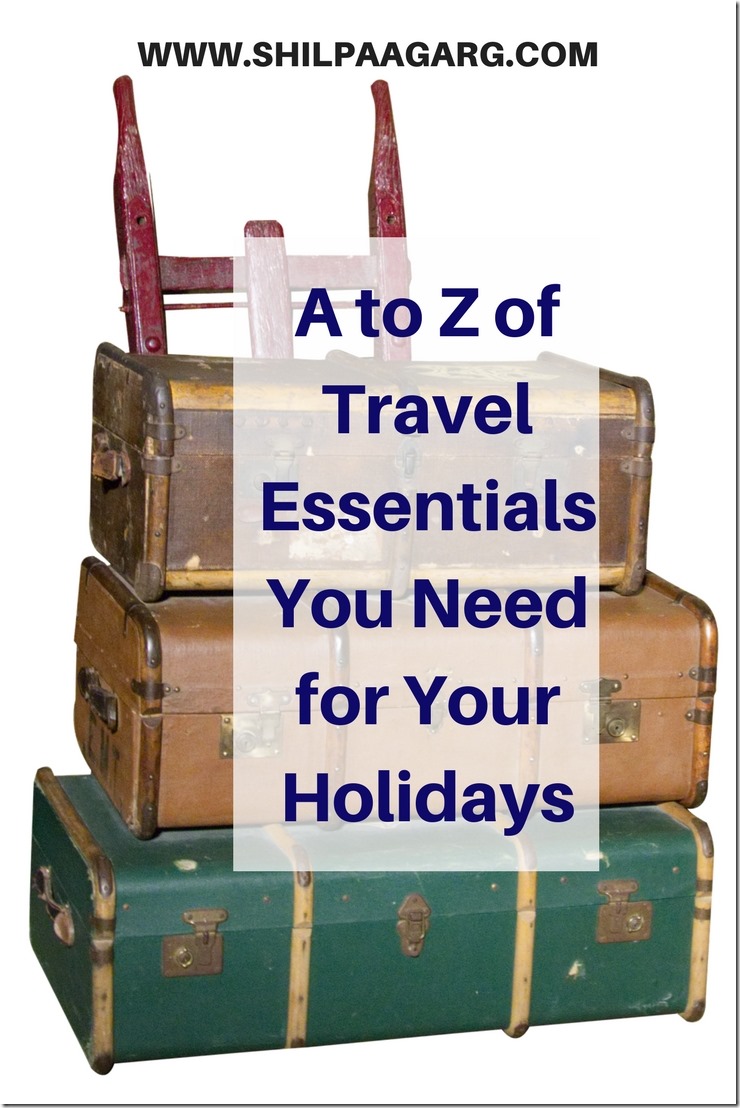 Lock to keep your valuables safe and also when your combination lock on the suitcase wouldn't work.
Medicines, both prescription and over the counter drugs like antacids, anti-diarrheal, anti-allergic, bandages, motion sickness tablets, pain reliever, cough drops etc
Nail Clipper. I forgot it once, and borrowed a blade from the hotel and ended up cutting my finger.
One-Stop-Shop Tool and that's the Swiss Army Knife. From filing nails to dealing with stuck zippers to cutting fruit, this is a complete toolkit in a pocket-size pack.
Personal Hygiene Items
Quick Drying, Anti-Microbial T-Shirts, UGs, Towels especially in humid climates where clothes might not dry all that fast.
Reusable Water Bottle… a simple step to take towards being more sustainable while traveling.
Sewing Kit and Safety Pins to mend a tear or loose button.
Torch
Universal Adapter Plugs
Very Positive Attitude. Ok, I made this up, but you need to have this in oodles when on the road.
Wet Wipes
Xtra UGs. You need them. Period.
Yoghurt. Ok, you need not carry this in your travel kit, but you must have it when traveling. Your tummy will certainly thank you for this.
Zip-Lock Bags to prevent the shampoo and conditioner bottles from leaking and also to keep mobiles and cameras safe from rains.
What are you favourite travel essentials that you wouldn't travel without? Share with us in the comments below.
My theme for this year's Blogging from A to Z April Challenge is Notes from the Road, which has my thoughts, views, experiences, tips, stories inspired by my years on the road.