How to Travel with Friends and Still Be Friends after the Trip
KG and I have traveled together as a couple and with friends. Some of our travels with friends have been epic in terms of fun and adventure. We have made some lifelong memories with some of our friends on these trips. In fact, we developed a deeper bond with them after our travels together.
With these travel friends, there's never a single dull moment. They know how to make you laugh and can keep you entertained for hours. The best thing I like is unwinding in the evening and sharing some incredible conversations over drinks and dinner. Once, someone had an altercation with a local, other friends sorted the issue amicably. There's certainly safety in numbers especially in a new place. Also, with more people, there's a wide range of skill sets that are available. Someone can cook, someone knows how to handle cranky kids or knows how to bargain while shopping etc.
You know, travel is amazing. And traveling with friends is even more amazing! Right?
Hmmm… Maybe not.
Traveling with friends sometimes can ruin your vacation and make you wish that you had gone alone. The purpose of a trip together is to enjoy and explore.  But when there is a mismatch of travel goals between you and your friends, it all goes downhill.
We have traveled with friends who would rather sleep than wake up early to do a small trek or watch the sunrise point. There have been instances, when people disappear at the time of payment. Then there are fussy eaters, slow walkers, too critical about accommodation, believers of too much PDA, too laid back, cribby crabs, stingy about tipping….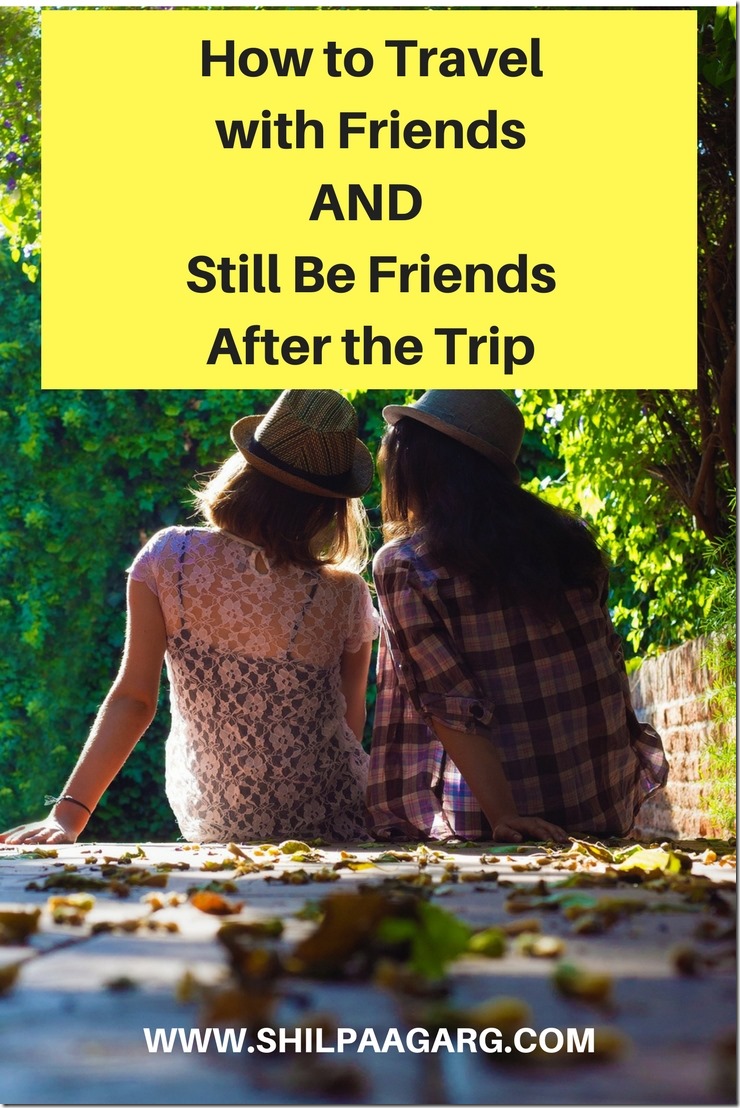 Sometimes these things are minor irritants, and sometimes they can lead to a big falling out. It doesn't have to be that way, though.
So, how do you travel with friends and still be friends after the trip?
Have similar travel goals and travel style. What are your expectations for the trip as a group? Do you want to relax in the hotel pool or visit the touristy destinations or explore little known streets and hidden neighborhoods or shop? Do you want to splurge on meals, or travel on the cheap? It is better to know all this in advance so you eliminate at least a few surprises.
Talk about money. Friendship and money don't mix. As a group decide how much money should be budgeted for food, transportation and entertainment. It seems awkward, but it can help reduce arguments in the long run. I have used Splitwise, an app that helps keep track of group related expenses.
Spend time apart. You don't have to do everything together. It's best to do some activities separately on some days. And then you can exchange notes over dinner.
Be flexible. We all have different temperaments and routines. It is important to respect the differences and go with the flow.
Communicate. Personality clashes happen all the time in friendships, and the resentments and conflicts tend to increase when you're on the road. Don't let things fester. Talk and laugh it out. When a friend said, "I can't believe that we are arguing over the type of pizza to order", it diffused the tension immediately.
How have been your travels with friends? Do you have any tips about traveling with friends? Drop a comment below.
My theme for this year's Blogging from A to Z April Challenge is Notes from the Road, which has my thoughts, views, experiences, tips, stories inspired by my years on the road.