Temples Lead the Green Way #WATWB
At any religious place in India you will notice abundance of flowers that are being offered to the Gods. Ever wonder what happens to these sacred flowers once the prayers are done?
According to many religious beliefs, flowers that are offered during prayers are sacrosanct and cannot be dumped into the garbage once they've wilted. So, these temple offerings are usually discarded in rivers, lakes or ponds.
That being an environmental hazard, some religious places are contributing to a garbage-free campaign in Mumbai along with some housing societies.
Two temple trusts of Parleshwar and Mahalakshmi temples area are converting the offerings to deities such as flowers, coconut, sweets, ghee, curd etc into compost. They have installed three compost boxes in their premises. Working all year round, the Swachh Parle Trust doubles their efforts during Ganesh Festivals. In February, for instance, they harvested 750 kgs of compost!
Temple employees keep adding new offerings to the compost bins regularly, mixing them and sprinkling water to keep it moist.
Even kitchen compost is added, to maintain healthy pH values of the compost. This way, the temples yield about 6-7 bags of compost every month, which is then used to nurture about 150 trees in the vicinity.
Utilizing the offerings to maintain greenery in the ever-expanding concrete jungle of Mumbai is certainly a fabulous initiative. Next time you go to either of these temples in Mumbai, you'll know that your offerings are indeed going to God–Mother Earth!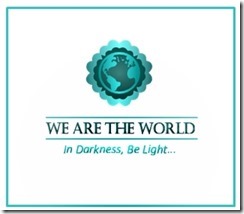 This post is part of the We Are the World Blogfest, a monthly event created by Damyanti Biswas and Belinda Witzenhausen to showcase stories of hope and light. This month I'm helping out as a co-host, along with extraordinary bloggers Simon Falk, Mary J Giese, Dan Antion,and Damyanti Biswas —please hop over to check out their WATWB posts as well as from other WATWB participants for a dose of feel-good to last you a whole month. You'll be happy you did!
Click HERE to check out the intention and rules of the blogfest and feel free to sign up at any time. You are always welcome!