If We Were Having Coffee…4th August
If we were having coffee, I'd welcome and thank you for stopping by for a bit of catching up over coffee. Oh, if coffee isn't your elixir,  you may grab a beverage of your choice. So pick your cup and pull up a chair.
If we were having coffee, I'd tell you that I have taken up the #30daydeclutteringchallenge which was shared by Shailaja on Instagram. From August 1st, my home is on a detox diet. I am spending 15- 30 minutes every morning and clearing the clutter and organizing the stuff in cupboards and drawers. It's just been 4 days since I started this decluttering challenge and I must say that I am chuffed to bits with the result. I have finished one room and I cant stop myself from opening the drawers and cupboards again and again to admire the neat and clutter-free look.
If we were having coffee, I'd share that I am doing this in an organized way. For every drawer or cupboard, I have 4 tasks to do…
Keep the items at their rightful place. I found a knife in my dressing table and I was looking for it everywhere in the kitchen last week.
Trash away the items that aren't needed. Gosh! The number of nail paints, cosmetic items, rubber-bands, shampoo sachets, pens, notepads… I have discarded.
Pack stuff to donate. Aah. This pile is growing in leaps and bounds. While sorting the cupboards, I realized that I have so many clothes which I have not worn for years!! Some have sentimental value attached to them, some I believe, I would fit in one day, AGAIN!! While there are some clothes which no longer suit my dressing sensibilities. Without giving in to the emotions, I just removed these clothes and packed them in bags. I can see that my cupboards are breathing a sigh of relief.
Wash and clean. This is my favourite part. Yes, my OCD for washing and cleaning is at its peak.
If we were having coffee, I'd  show you the picture I clicked while de-cluttering today. Can you believe that one of the drawers had these empty boxes of gadgets? I wonder why I had kept them, knowing that the Kindle or the FireTV Stick or the Camera or the Internet Dongle would NEVER ever be packed in their respective boxes again. I binned all these boxes along with the instruction manuals and information leaflets.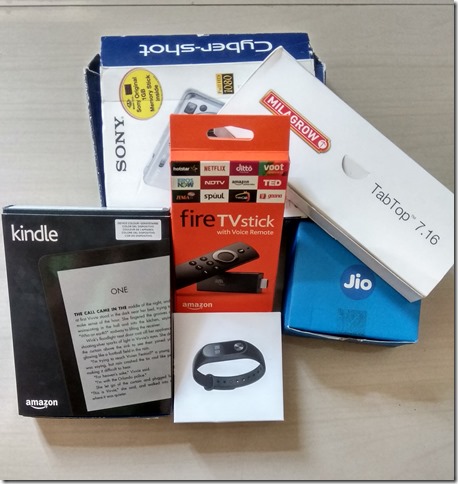 If we were having coffee, I'd also talk about the Kiki Challenge. I am sure you must be aware of this ridiculous challenge that is sweeping the world. The #inmyfeelings challenge – also referred to as the Kiki challenge – involves getting out of the car while it's still moving, leaving the door open and dancing as the car keeps rolling forwards. And, of course, the whole thing has to be filmed, or it didn't happen. I have seen so many videos where this challenge has gone horribly wrong. I fail to understand how people can let go of their rational thinking and take up such risky challenges. What do they prove by taking up such dangerous and life-threatening challenges? Would love to know your thoughts on this online challenge.
If we were having coffee today, I'd tell you that this is it for this week. Thank you for having coffee with me. See you same time, next week?