How to Kill Time While Waiting at the Airport
You are stuck at the airport with time to kill, because…
You have checked in your bags and whizzed past the security pretty early.
Your flight is delayed.
You have arrived earlier for your flight.
You have a long layover.
Here's what you can do to kill time while waiting to board your flight.
Walk Around – Airports these days are large and similar to the malls and thus make a great place to walk around. So, walk through the terminals and gates, you will be exercising and killing time with one stone. Terminal 3 at Indira Gandhi International Airport, New Delhi is my fav place to walk around.
Talk to People – This is the simplest thing to do. If you are next to a solo traveler who seems nice, interesting and willing to socialize, strike a conversation and time will fly!
Go Shopping – These days major airports have a good number of stores where you can shop before you board your flight. If you don't want to burn a hole in your pocket, then you can check out sale or clearance sections or just do window-shopping.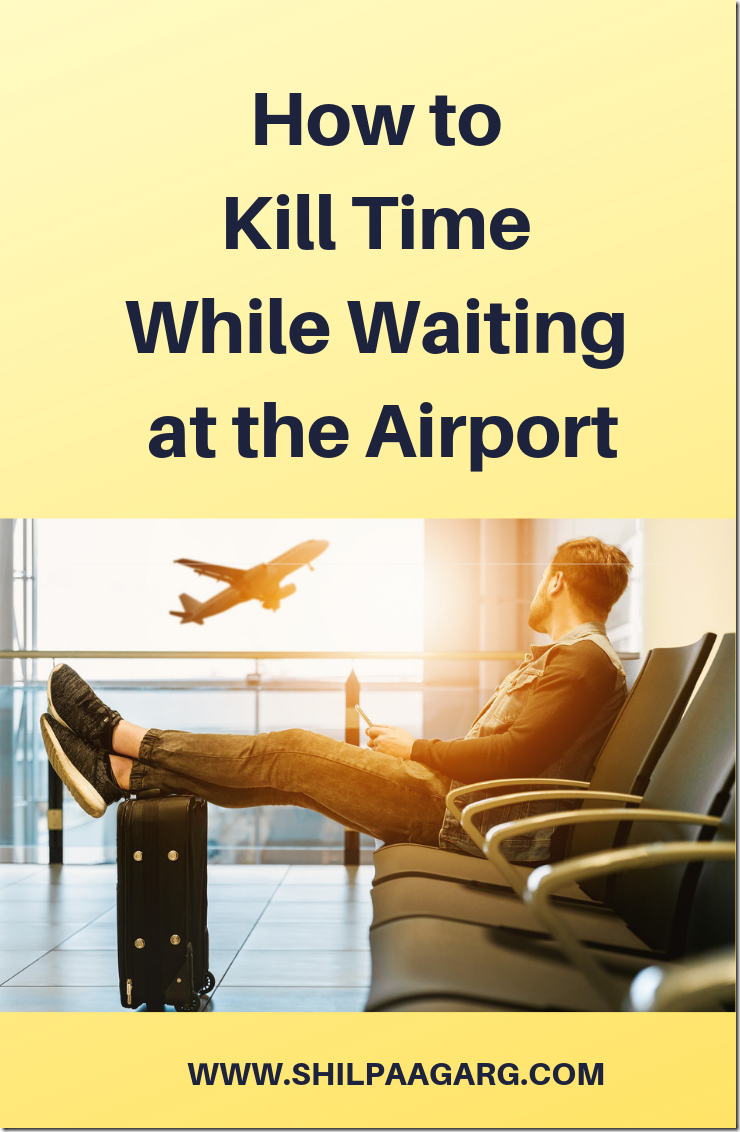 Observe People – Observing people around you is pretty interesting, and airports are melting pots of culture, age and gender. Observing people may give birth to so many stories in your head. Of course, you may not have the complete picture, but just imagine the possibilities. And sometimes just observe and do nothing about it. Oh did I tell you that it was during one my people watching activity after my Delhi to Chennai flight, during my layover at Chennai airport, that I saw Amitabh Bachchan walking towards me (Yeah, I'd like to believe that!). It was a big-time fan-girl moment for me.
Read – That's my favorite thing to do. Reading a book in a quiet corner is a great way to spend time at the airport.
Make Phone Calls – Call a family member or a friend who you've been meaning to get in touch with but haven't. A secluded area, a chair to sit and catch up. You'll be happy you finally got around to making the call.
Sleep – Catching up on the lost sleep because your flight bookings are done for ungodly hours is another way to kill time. Of course, don't forget to put an alarm on your phone.
Go Sightseeing – Leave the airport and take a tour of the city. This is possible only if you have a lot of time to kill before your next flight out of the city.
Stay Glued to your Phone – Clean your phone data, organize your photos, respond to pending emails, chat with friends, lurk on social media, play phone games, listen to music and don't let anyone come between you and your phone. Of course, keep charging the phone and/or save enough battery to last till your trip is over.
What are some of your favorite ways to kill time in an airport? Tell us in the comments!