Photographs and Memories
The other day, I was sifting through a drawer full of memories and I was transported back in time.
The College Years!!
Those were the days… left the comforts of home for the first time.. made a group out of the first few people we met… hanging out together between classes… sitting together during lunch and dinners at the mess… staying up all night with a steady dose of tea and snacks to complete assignments. Complaining about anything and everything, learning to share opinions, discovering ourselves and forging some wonderful bonds….
And then life happened… new jobs, different cities, marriage and then kids… The 'nice and wild' days were all left behind as we embraced the newer roles and challenges of life.
One fine day, out of the blue, years later, a mail in my inbox popped out. It was from a college friend from the distant past. The heart did a time travel across emails and then Facebook, on and off, for a good two decades. The mails saw us exchanging stories of our lives, marriages, kids, work, friends and experiences.
And then we happened to be in the same city at the same time. 'Can we meet?', the question popped up in one of our chats. Of course, we can and we must! And as the day came closer, anticipation was killing me. What if, he is not able to make it? What if, there's an exigency? What-if… What-if…
Finally, the day arrived and I could barely contain my excitement. And thankfully, all went well for me, no exigency, no traffic jams and I reached before the scheduled time. As I sat by the window at the cafe, lost in some last minute anxiety-laced-thinking… 'would it be awkward… after all we would be meeting after two decades?'…
Someone tapped me on the shoulder — I turned around and found myself looking at his twinkling eyes and a beaming smile. As I got up and extended my hand, he engulfed me in a big bear hug. Thoughts of awkwardness on meeting a friend after a long time simply vanished and as we sat drinking coffee and talking… Talking about mutual friends, remembering the nicknames we had given to professors and some friends and telling stories we had forgotten…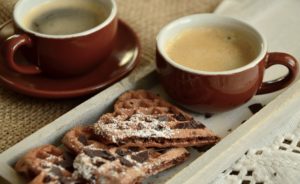 As we emptied our first cup of coffee, two excited voices broke our chain of conversation. We looked up and added more to the buzz around us. In front of us were two batch mates. Oblivious to the minor pandemonium that we were creating, we chatted animatedly. Remembering and sharing the inside jokes that still sounded sooo hilarious, re-living the memories of life at the campus…
We talked about how we had expected our life to be and how it played out for each one of us.  We shared so many stories that time simply flew by… so quickly!
We realized that though the greys and a few wrinkles, along with adipose layers at unflattering places had changed us physically but underneath we were still the same wonderful people who were friends decades ago.
Though, Facebook and Twitter had united us again but there's nothing like meeting our friends in the real world. No matter how far we were all these years, we were able to pick up right where we left off… We all laughed so much that day and our happiness knew no bounds. The emotional connect cannot be replaced by the smileys on the internet chat and comments on Facebook posts. The bond is strengthened and deepened when we connect in the real world with real friends.
We realized that reunion reveals friendship potential that haven't yet been emerged in the past. And that good things happen when we get together! 
Hours later, I emerged from an almost trance-like state after having been swept back into the past. As I kept the photo album back in the drawer, I also realized that photographs are not just worth a thousand words, but worth a thousand memories.  As the chores of the day called my attention, that warm and happy smile lingered on my face for a long long time.