10 Reasons Why You Must Buy a Term Plan
In India, Insurance is still considered an expense rather than a necessity to secure financial stability. But an adequate insurance cover helps and protects during a financial crisis. Term plan insurance is the most basic and useful form of life insurance.
Term plan is a life insurance policy where the insured pays a premium at regular intervals (quarterly/bi-annually/annually) and the insurer agrees to pay the beneficiary or the nominee the sum assured in the event of the insured's premature death during the policy term.
Term Insurance gives the protection to you and your family to survive the lows of life like a serious illness or an accident or anything that derails your plans for the future. As soon as you start earning, you must buy a term plan. Here are 10 reasons why you must buy a term plan…
1. Provides Financial Security
Pure term plans are not an investment option, but a means to financially secure the lives of the family in the unfortunate event of death of the insured. It's best to revise the insurance cover from time to time to meet the changing needs.
2. Low Premium
The premium for a term plan is relatively lower as compared to insurance plans. It provides only life protection plan and no ancillary benefits or investment element is attached.
3. Timely Payouts
Generally, claim rejections are lower if the policy has been active for 10 years or more. This is also due to the simplicity of the policy, so there is little to debate and hence the claim can be paid up easily without any hassle.
4. Fixed Premium
The premium amount paid for term plan life insurance are fixed and do not vary with time unless there are any changes in the tax laws.
5. Early-Mover Advantage
Term plans give you higher benefits if you buy the insurance at an early age. The earlier you buy the insurance, the lower the premium you have pay. As the premium for term insurance increases with advancing age, it is better to buy a suitable plan as early as you can so that you have to pay lower premium.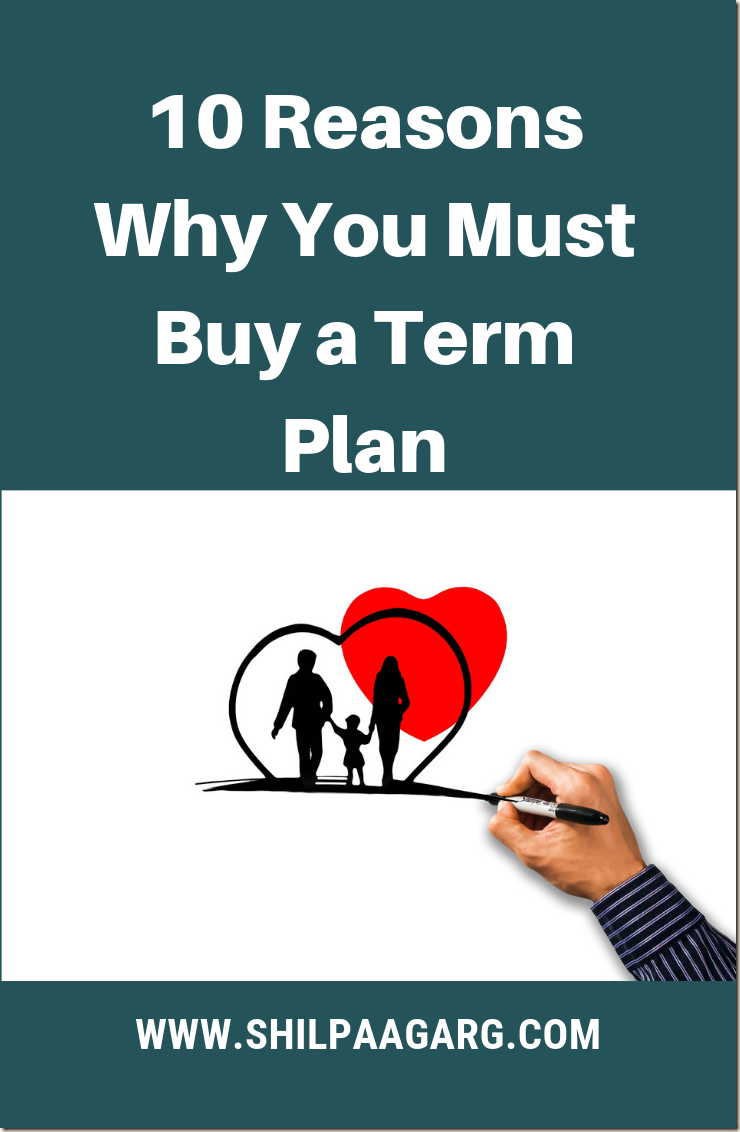 6. Tax Free Death Benefit
Term plans like many life insurance policies offer tax free death benefit to the nominees of the policy holder. As the premiums are paid with money for which you have already paid the tax to the government, no further tax is levied upon the benefit amount. There may be exceptions though.
7. Riders Can Be Added
Some term plans allow you to add riders like, accidental death cover, critical illness rider or specific disease riders etc. Riders are the additional benefits that come with a nominal premium. With these riders the nominee is liable to get a higher assured sum.
8. Income Tax Benefits
In respect of premium paid, you can avail a deduction of up to Rs 150,000 per annum under Section 80C of the Income Tax Act 1961. Also, the death benefit paid to your nominee (in case of unfortunate death) is tax free under Section 10 (10D) of the income Tax Act 1961.
9. Longer Term Life Cover
Term plans can be taken for a long period of time. Generally one can take a term up to age 70-75; however, some companies allow taking the cover up to age 99 as well.
10. Living Benefits
Most term plans come with living benefits and allow you to access a significant portion of the death benefits while you are still living. The purpose of the living benefits rider is to allow the policy owner the opportunity to use his or her life insurance benefits early in the case of serious injury, terminal illness, or other debilitating medical condition. Serious illnesses and injuries could affect your ability to earn an income. The living benefit allows a policyholder to offset this issue by accessing life insurance benefits prior to death.
Term plan offer a lot of benefits along with freedom from hassles and worries by securing the lives of your loved ones. So, buy one today!