Outside My Window #WordsMatter
The noisy and energetic hustle-bustle of the market below the hotel window, swarming with people going about their business.
The view of chaotic narrow lanes with bikes and autos, cows and people jostling for space, from the window of the cafe.
Seeing the periodic lashing of the sea waves over the rocky shore from the high-rise.
Sitting cozily by the window of your home and watching the rain pouring outside.
There's something beautiful about looking out the window and see the world unfolding outside.
Have you realized that as you stare out of the window, you are looking at everything and nothing at the same time. Yes, you are not only taking in the sights of the outside world but also thinking, reflecting, day-dreaming or exploring the wandering mind.
It's not always easy to tell the difference between thinking and looking out the window. -Wallace Stevens
As I look out the window, I see the overcast sky. The sky that is dark and low with ominous black clouds, the wind is picking up, warning and howling like a lone wolf into the night. And I am reminded of the dark clouds of despair and delusion which had engulfed me some years ago. How weary and exhausting that was! A chat with a friend changed the perspective and that changed it all.  How amazing is our mind! We learn something new or suddenly see something in a different light and everything shifts. Just like this strong gust of wind which is sweeping all the dark clouds away!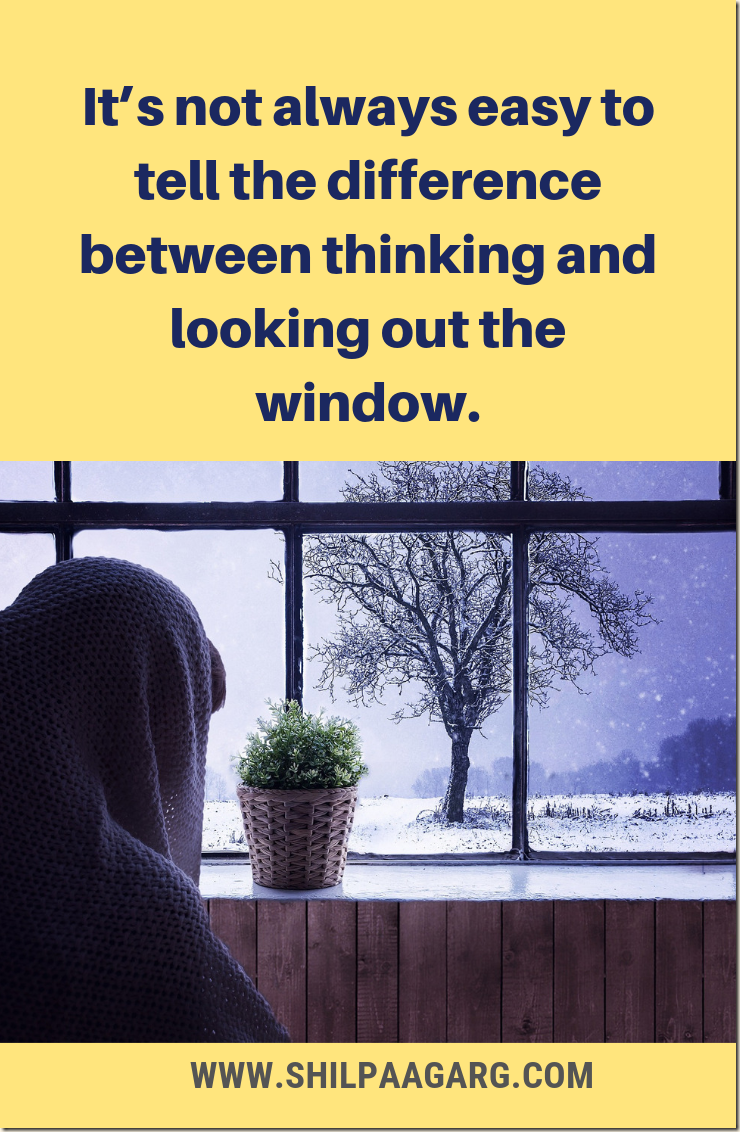 From my window, I am seeing a pani-puri vendor surrounded by a few kids and their mothers outside our apartment complex. I can see the vendor interacting with each of his customer, I know he is asking them 'Teekha, Medium ya Meetha'. Everyone is waiting patiently for their turn to get the pani-puri in their bowl. As Mrs L put that pani-puri in her mouth, I can see that she has been directly teleported to heaven. I am smiling at little B who has made a gigantic mess as the pani-puri is too big for him. And I let out a wistful sigh. I so wish to join them and enjoy this favorite street food of mine, but I won't. I am thinking of my strong internal brakes which inhibit me from enjoying this little ball of happiness from a road-side vendor. It's not only the pani-puri but so many other things that I have a mental block for. I am realizing that I just can't wish these blocks away, but I will have to practically deal with them.
Outside my window, I see the two tall green trees swaying gently in the wind. They are losing some leaves in the process but they aren't worried and continue to match their dance with the rhythm of the wind. This view makes me wish that we all could dance, smile, marvel, trust, hope, love, wish, believe and most of all, enjoy every moment of the journey, and appreciate where we are at this moment instead of always focusing on how far we have to go!
Staring outside the window is a great exercise in listening to our mind and delving deeper and getting a better understanding of our inner self.
What do you see outside your window? Does it inspire reflection and introspection?
I received this tag from Anagha Yatin at Canvas with Rainbow. It's my pleasure to pass on this tag to PraGun at Pragun's Panchtatwa – Sun Sea Sand Sky. There are 47 of us on this Blog Hop and it will be spread over 3 days – 2, 3, 4 August. Do follow the #WordsMatter Blog Hop and prepare to be surprised!