Karnataka College Upcycles 700 Plastic Bottles Into A Stunning Hanging Garden! #WATWB
Plastic bottles are the most prevalent form of plastic pollution and is a growing threat for the environment.
Shivanand Hongal, a professor in the College of Horticulture, Sirsi in Karnataka on his trip to Israel found a brilliant, affordable and eco-friendly way to upcycle the plastic water bottles. He saw a farmer grow ornamental plants in waste plastic bottles. He shared the idea with college management and students and received a positive response.
In May this year, students started collecting plastic bottles from the campus and their neighbourhood. A total of 700 non-biodegradable bottles were collected. They watched a lot of DIY videos on YouTube to get the right technique of cutting the bottles. After a few trials and errors, they got it right.
The bottles cut sideways were used for leafy vegetables like coriander, neem, spinach, and the ones with vertical cuts for plants like onion, garlic, radish, among others.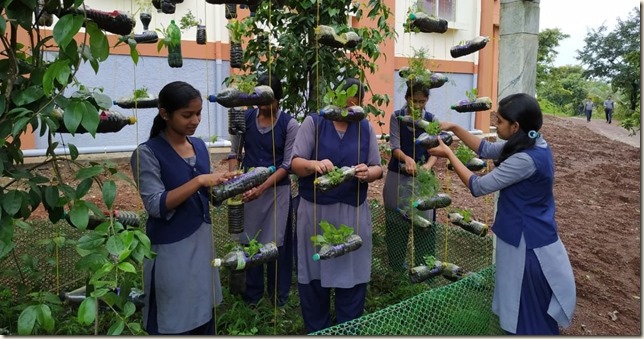 The students were divided into groups, and each team was given a specific location to hang the upcycled bottles.
Soil was replaced with coco peat as it is lighter and some amount of organic fertilizer was added to ensure that the plants got the required nutrients. As these seeds were planted on the onset of monsoon, the yield was quite excellent.
The success and satisfaction derived from this project even motivated the college to go beyond bottles and upcycle as many non-biodegradable waste as possible.
The students and teachers are now reusing plastic bags, waste cement bags, wooden planks, old tyres, oil cans, paint boxes, buckets and other waste items to grow flowers, fruits and a variety of vegetables like cucurbits, legumes, leafy vegetables, root vegetables etc. The college has 150 waste tyres, cans and boxes, 700 plastic bottles, 200 grow bags and wooden plank sheets on campus.
Over the past six months, college students have involved themselves in experimenting with a new technology which involves low investment, less water and no soil, to cultivate organic vegetables for healthy meals. The students spend less than an hour a day on this garden and also experiment with new vegetables, besides making use of waste and plastic bottles.
This slideshow requires JavaScript.
Big changes always begin by taking a single step and there is power in small steps. We all can upcycle and repurposing old and discarded items into new products that have a better quality and an environmental value. Read more about how to upcycle here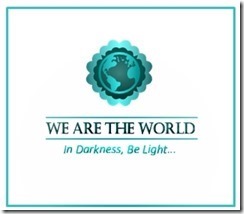 This post is part of the We Are the World Blogfest, a monthly blogging event created by Damyanti Biswas and Belinda Witzenhausen to showcase stories of hope and light. This month, I'm helping out as a co-host, along with extraordinary bloggers : Sylvia Stein, Eric Lahti and Lizbeth Hartz. Please hop over to check out their WATWB posts as well as from other WATWB participants for a dose of feel-good to last you a whole month. You'll be happy you did!