10 Ways to Use Goodreads
If you are an avid reader, you know about Goodreads, the largest literary social media network. It's a great platform to keep track of books you have read, want to read and are currently reading. On this bookish social media platform, you can read reviews of books, leave your reviews and can see what your friends are reading too. But there's more. Yes, on Goodreads you can do so much more than that. Let me share the 10 ways to use Goodreads…
1. Get Amazing Stats
The greatest value of a picture is when it forces us to notice what we never expected to see. Stats on Goodreads make you delve into your reading habits. It shows the number of books you have read as compared to the previous years. Or how many 5 star ratings you gave to the books you read or how many pages and books you have read over time. Go to My Books on Goodreads and click on Stats and let the magic of numbers unfold in front of you.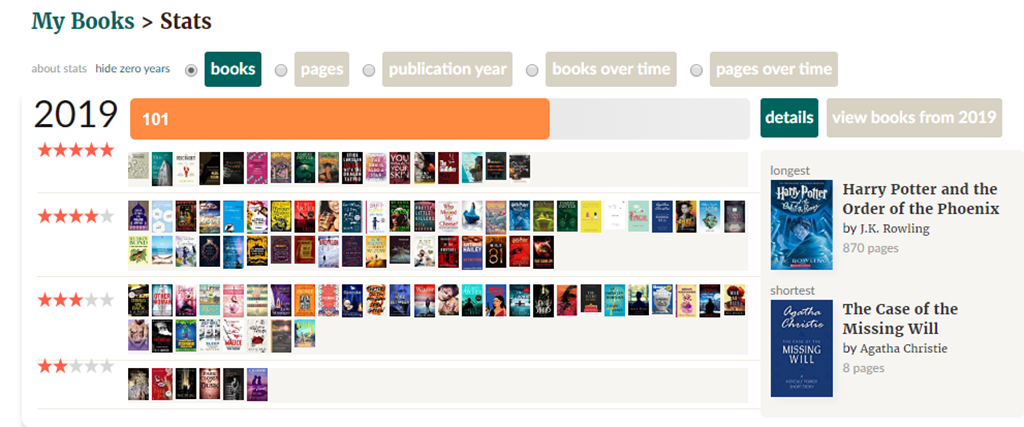 2. Create Your Own Exclusive Shelves
There are three default shelves on Goodreads: Read, Currently-Reading, and To-Read. But if you want to take your Goodreads experience to the next level, you can create your own exclusive shelves. On My Books page, click the "edit" button next to your list of Bookshelves, and open up a whole new world of possibilities. I have shelves like Kindle Books, Fiction, Non Fiction, Thrillers/ Mysteries, Biography / Memoirs, Romance, Self-Help, Reviewed etc. You can classify one book into more than one shelf.
3. Compare Reading Tastes With Your Friends
People have different reading tastes, so which books you should pick based on the reviews? Well, there's a Compare books feature, through which you can know whether you are 'compatible-reading-wise' with your friend. To find this out, go to the profile of your friend, and click on Compare Books. I met Momzi (a super voracious reader, I must say) on Goodreads and follow her reviews and recommendations blindly.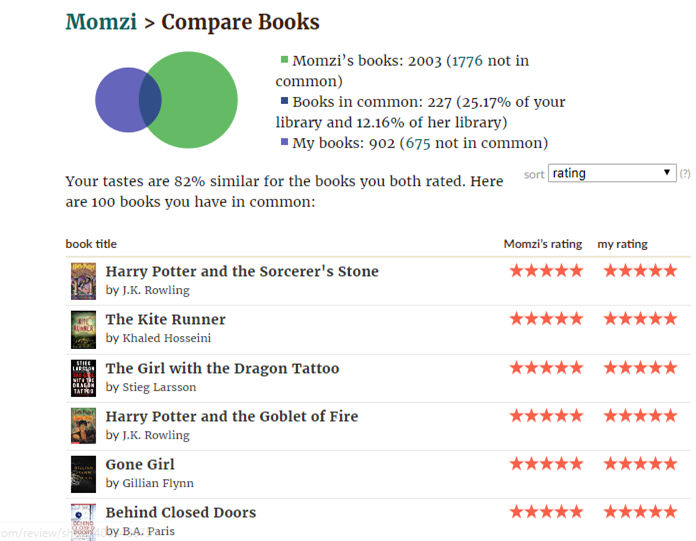 4. Set a Reading Challenge
Motivate yourself to read more books and participate in the Goodreads Reading Challenge! Set a goal of how many books you want to read in a year, and Goodreads will  help you keep a track of it. You'll be able to see how many books behind or ahead of schedule you are — and how many books you need to read per week to complete the challenge. Seeing your progress and stats inspires you to read more and better, isnt it!
5.Win Free Books
No bookworm will ever say no to a free book. Click on Giveaways under Browse section and you have a chance to win a free book. Dont forget to keep your fingers crossed!
6. Get Book Recommendations
Goodreads has an algorithm that can come up with recommendations for you. To get best recommendations from Goodreads, it needs some key information. Here's what you need to do to get recommendations customized to your reading taste:
Keep rating books – the more books you rate, the better your recommendations will be.
Mark your favorite genres.
Categorize your books by creating shelves such as "memoirs" or "crime thrillers". You will get recommendations based on each shelf you create!
Click Not interested for recommendations that you don't like, that way, you'll see fewer books like those in the future.
7. Chat With Your Favorite  Author
A lot of authors use Goodreads to chat with their fans. Click on Ask the Author in the Community tab and check who is around to answer questions or follow your favorite authors to get a notification when they're taking questions.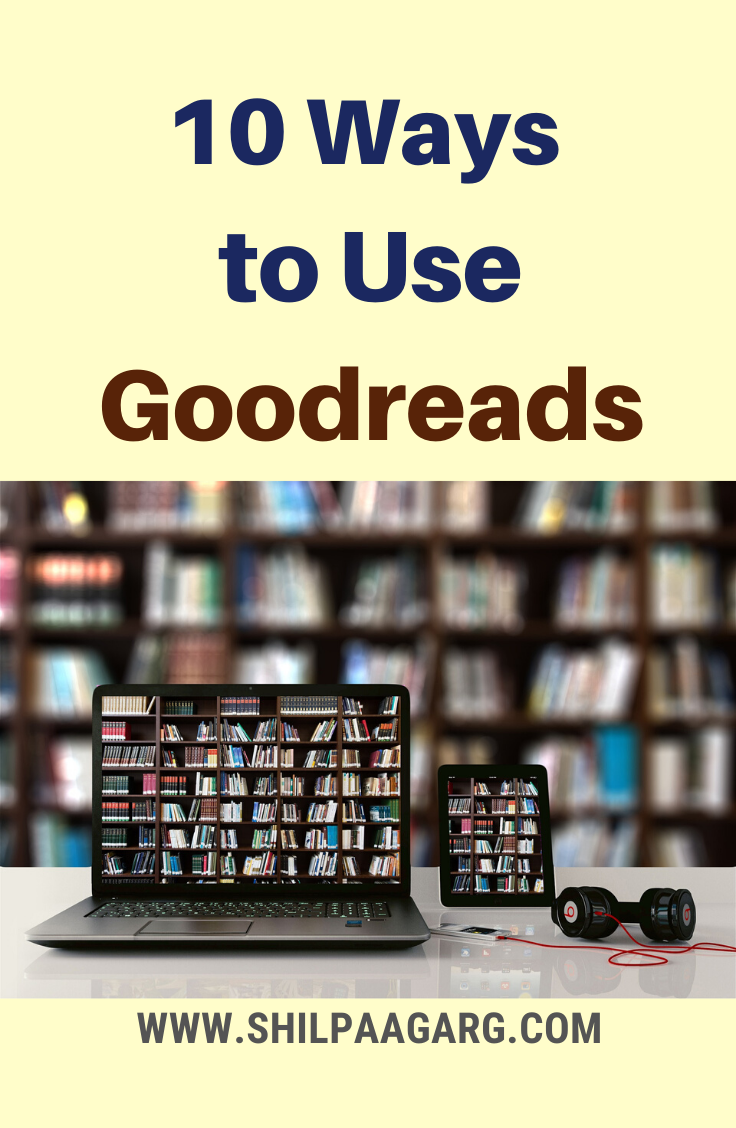 8. Discuss Books with Fellow Readers
There are Groups and Discussions under Community tab. Check out groups like Oprah's Book Club or Stephen King Fans Group or join discussions on Worst character in the Harry Potter series?
9. Share Updates and Favourite Passages from Your Book
If you are reading a book on your Kindle, you can share your reading progress and share favorite passages / quotes with your Goodreads friends as well as on Twitter while you are reading your ebook! Of course, you need to link your Kindle to Goodreads account first.
10. Goodreads Lists
If you are a list person like me then Lists section under Browse section is for you. There are user curated lists for every possible category. Use the search option to look for books of your choice. For example, Best Science Fiction with a Female Protagonist, Around the World One Book from Each Country
Do you use Goodreads? What's your favorite feature on Goodreads?