My Word of the Year for 2020
Are you excited about the new year and the fresh clean slate that it offers? I am!!
The start of a new year always feels like a chance to try new things and maybe even "start over" with our life and its goals. I know, this 'new year, new me' is cliché, but I believe that this is the perfect opportunity to reflect on what is and what isn't working for us.
Since the last couple of years, I have been choosing a word to define my whole year which is known as the Word of the Year. By having a word to guide my year, I found it easier to create goals and resolutions that synced with my overall approach for the year.
I had chosen Focus as My Word of the Year for 2019. I made efforts to live up to it for the entire year, and did fairly well with my goals and plans for 2019 except for regular exercise. 2019 made be realize the importance and significance of focus in the different aspects of my life.
I believe, words have power and the word that I am going to centre my life and goals this 2020 is…
EVOLVE
Evolve means a process of constant change or renewal from a lower or simple state to a higher state.
As CS Lewis said, you cannot go on indefinitely being just an ordinary, decent egg. You must be hatched or go bad. Small things always grow into big things. The little habits, whether good or bad, always develop into bigger, more prominent behaviors.
To me, Evolve means to be a better version of myself. It means to evolve through the choices and the intentions I set … every day. .
To Evolve is to develop and grow myself gradually from within. It means to allow the evolution of my mindset, emotions, habits, daily routine, associations, actions, and life.
Evolve means to be grounded, connected, stable, calm, strong, and at peace and growing upward.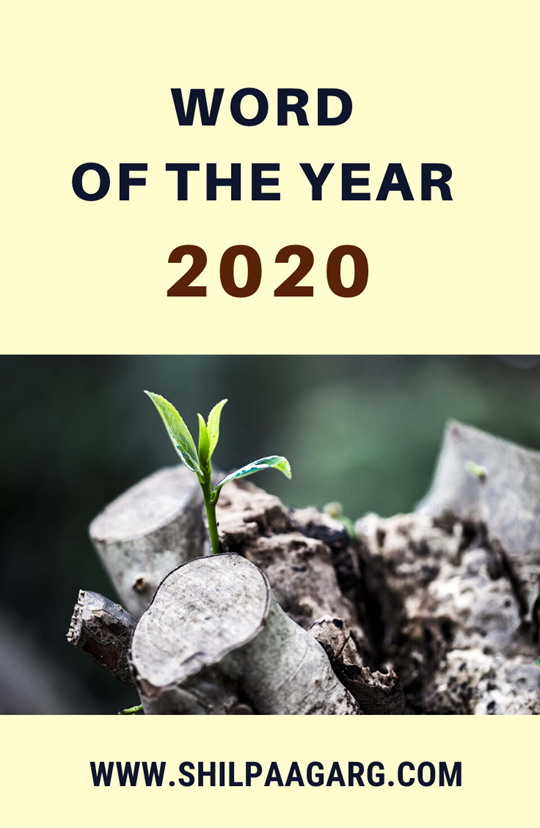 I'd like to Evolve in three spheres of my life
1. Personal
Calm the Monkey Mind – Delve more deeply into my spiritual journey.
Physical Health – Drop the excuses and get on with burning calories, regularly.
2. Professional
Push Beyond Boundaries  – Step outside my comfort zone to get experience in new areas in the field of training workshops and blogging.
Broaden Work Horizons – Pick up new knowledge and skills to increase value-add to the current skill-set.
3. Passion
Read – Read more, more and some more
Bake – Experiment, excel and expand the home baking business
"It's time to evolve." Bill Hicks
These are the thoughts that will be guiding and hopefully transforming me this year.  And with this I am kick-starting my new year.
Have you chosen a Word of The Year? Do you believe in Word of The Year or New Year resolutions? Do share your thoughts.