The Benefits of Reading Non-Fiction
I wanted my child to be an avid reader like me. So from the very beginning, I have read or made him read age appropriate story books. But over the years, I realized that he is a reluctant reader. If I pick an engaging or a thrilling fiction for him from the collection of our books, he'd take eons to finish reading it. But when he picks a book on his own, he will always reach out for a non-fiction. So, when he tells me bits of information from How to Stay Alive: The Ultimate Survival Guide for Any Situation by Bear Grylls or The Definitive Book of Body Language by Allan & Barbara Pease with a sparkle in his eyes, so do mine. It is my son who made me realize that non-fiction books can be satisfying and engaging as well.There are endless benefits of reading non-fiction, let me share a few.
1. Non-fiction improves focus and concentration
When you are reading for learning or understanding, you are emotionally detached from your reading. You are objective and try to understand the logic and the arguments given and that makes you read with focus and concentration. I am reading The Little Book of Hygge: Danish Secrets to Happy Living by Meik Wiking. Hygge is a Danish word for a mood of coziness and comfortable conviviality with feelings of wellness and contentment. As adopting the Hygge manifesto is on my agenda, I am reading it with purpose to stay on track and avoid mindless scanning. I am making mental links and analyzing to cement the new information in my brain so that I understand and retain it better.
2. Non fiction enhances knowledge and information
Non-fiction provides you with facts and real life concepts. It feeds the mind with experiences and information. It deepens and broadens the knowledge about a wide range of new topics. Reading nonfiction can be the springboard to understanding how and whys of everything—and all these insights make you all the more powerful, emotionally as well as intellectually. I recently read The Man Who Mistook His Wife for a Hat by Oliver Sacks and it was fascinating read about case histories and clinical analysis of patients with unique neurological disorders.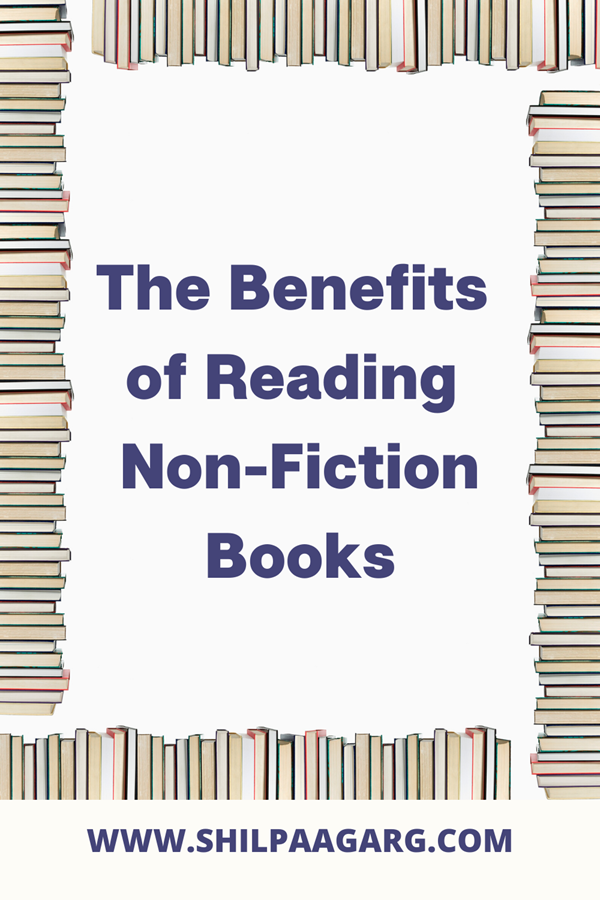 3. Non fiction is empowering
When you use facts and figures, you are more subjective and practical in your dealings with your life and people around you. It helps in expanding the thought process and allows you to form your own arguments. Reading non-fiction makes one curious to know things. It helps in improving the ability to perceive the situations and contradict ideas with your own intellect. And all this boosts confidence. The Happiness Project: Or, Why I Spent a Year Trying to Sing in the Morning, Clean My Closets, Fight Right, Read Aristotle, and Generally Have More Fun by Gretchen Rubin is a realistic, genuinely practical (but not easy), lifelong approach to making the constant adjustments we know we need to be our best selves.
4. Non-fiction teaches you real life lessons
Reading memoirs and biographies offer glimpses into the trials, tribulations and triumphs of notable people throughout history. Reading about their experiences deepens your understanding of the human condition and teaches you valuable life lessons, helping you avoid pitfalls and make the most of new opportunities. The Diary of a Young Girl by Anne Frank and the life lessons it teaches about being courageous and strong despite adversities will stay with me forever.
My first love is fiction but I do read non-fiction books every and then and reading non-fiction always leave me with awe, admiration and awareness.
Do you enjoy reading Non-Fiction? Which Non-Fiction books will you recommend?