My Bookish Pet Peeves
For me, books are food for soul, books are sacred. And I keep them high up on the pedestal. But there are certain things about books that make me cringe or groan or cry with frustration. Here are my bookish pet peeves that bother me as a reader.
1. Crappy Endings
This has got to be one of my BIGGEST pet peeves! After being invested in the story, you reach the last few pages only to find it ending terribly. Arghh! The disappointment is infinite! Lame plot twists, loose plot threads, hurried or abrupt endings leave you so dissatisfied that you wonder if it was an elaborate joke. I remember once looking at my book with disbelief and checking if some pages were missing. Eleanor and Park by Rainbow Rowell was so rushed, it left me disappointed and confused.And Gone Girl by Gillian Flynn which had an addictive story, but had such an open ended climax that I actually wanted to bang my head against the wall!
2. Poor Editing
I'm not a Grammar Nazi nor am I an English Major and I do make blunders on my blog here. But when I am reading a book, I may forgive an occasional typo, but inconsistencies in names and spellings, misuse of tenses, inappropriate word endings, overused cliches make the red flags pop in my head. Instead of enjoying the story, the errors in the book, distract me!
3. Overly Long Descriptions
As readers, you follow the story and don't mind even it is going in different directions as long there's a point. I get that every character, location and event in a story needs to be introduced and explained. But what happens when there is over explanation or the text is extravagant, ornate, and flowery? All this not only breaks the flow and muddles the content but gets boring as well. There was a book in which half a page was devoted to a dress and what happened to it while the protagonist was running. Half a page to talk about a stupid dress that did not matter in the story at all!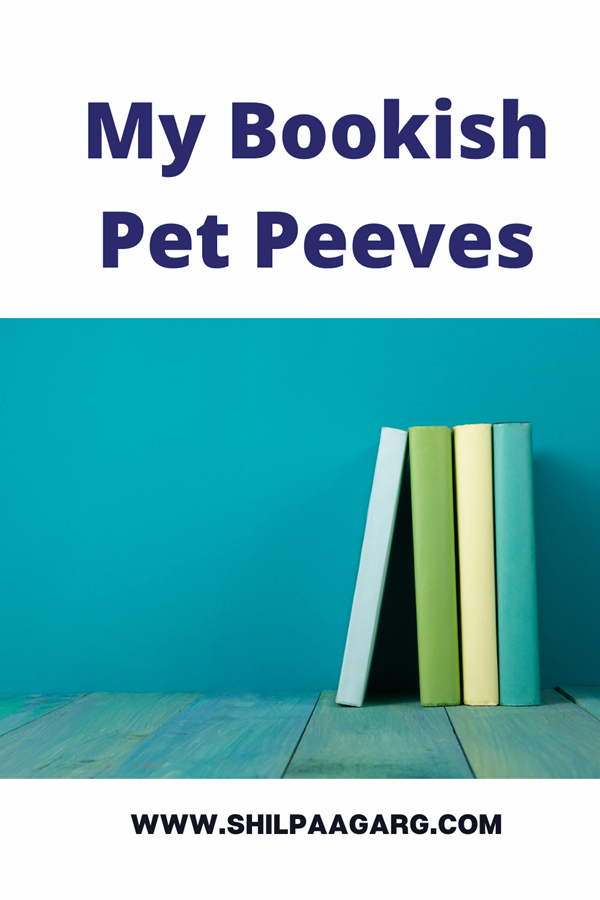 4. Different Book Sizes or Cover Designs in a Series
This may sound a bit shallow but ask any bookworm, they will swear by their collection of books. Books are our pride and joy and we love showcasing them. So, imagine the pain of waiting for the third or fourth book in a series and then the grief of finding that not only the cover design is different but the height and size of the book is not the same as well. Why would you change the look and size of a book in a series? I have 7 books of the The Clifton Chronicles by Jeffrey Archer and they are of different sizes. Book series number 5 and 6 have 5 and 6 written on the crimp while it is simply missing from the other five books!
5. Pesky Stickers
I love beautiful covers. But I hate to see the promotional stickers of Now a Major Motion Picture or Netflix Series or Special Edition or Half Price on my books. They are a big eye sore. I think, putting stickers on books should be a crime. I tried to remove one from a book and seeing the mess that's left behind fills me with rage, still.
6. Ugly Book Covers
A book cover is the face of the book and is the visual representation of the writing inside. They are meant to be eye-catching and pretty. But why would the author, publisher and their teams select a ridiculously ugly cover. I mean how could they all think that that looked good. Harry Potter and the Chamber of Secrets and Harry Potter and the Prisoner of Azkaban, Bridget Jones's Diary have truly weird covers!
These are my Bookish Pet Peeves that bother me as a reader. Can you relate to any? What ruins a book for you?