How to Create and Organize Your TBR List
TBR means To Be Read. It is actually a list of all of the books that you want to read, but just haven't gotten around to it. For avid readers TBR piles are mini-libraries. They grow at at alarming rate and tend to increase after you read book reviews or chat with a fellow bibliophile or see the recommendations from your favorite people or celebrities or book clubs. And if you are an eBook-a-holic like me, the TBR pile grows like Jack's magical beanstalk.
With recommendations flying in from all directions, how do you create and organize your TBR list? Where do you keep the record of books you want to read? How do you ensure that you know what's in your pipeline of books to read. Here are some tried and tested ways to create and organize the books you are interested in reading.
1. Notebook or a Diary
Well, this is the good old fashioned way of noting the books you want to read. As soon as you come across any good book and want to dive into it in the near future, make a note of the title and the author in your notebook. It's simple and efficient, believe me!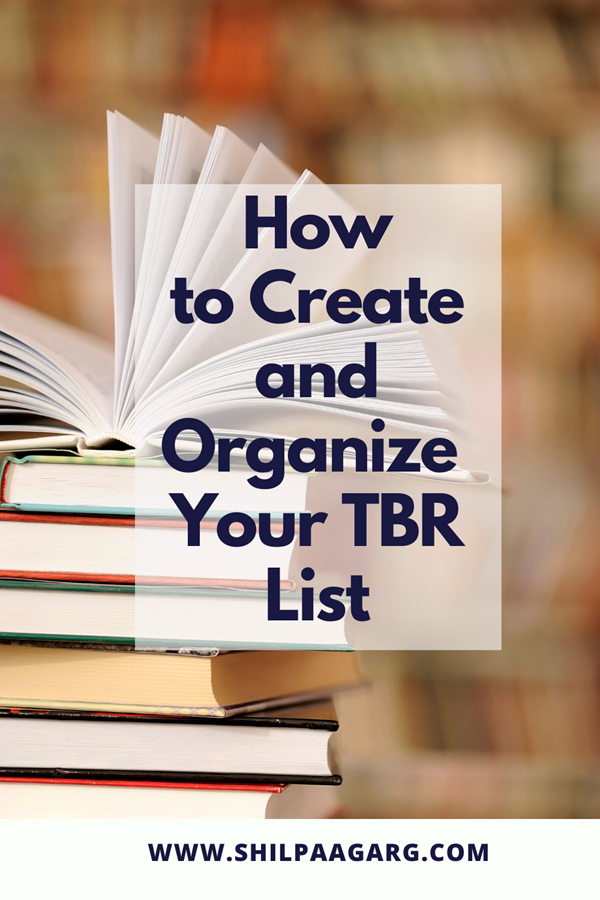 2. Excel Sheet
If you are tech savvy, then Excel is the tool for you. You may save your excel spreadsheet on Google Drive so as to edit it on the go from your phone anytime, anywhere. You can make it as simple and as complex you want. Apart from the name and the author, you may add genre, format of book, date of starting and finishing the book, star rating etc. Here's a part of my TBR List in Excel.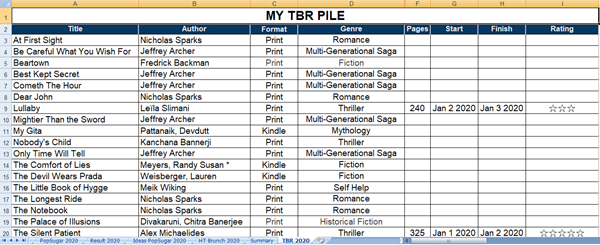 3. Goodreads
Goodreads is the social network for book-lovers. If you want to add a book to your TBR, search it on Goodreads and click on Want to Read button. When you click on that green button, not only do you make it easier to plan your future reading, you also unleash the power of the Want to Read shelf. Yes, when you add a book on your Want to Read shelf, it helps build a book's buzz and gives you inside access to when that book is on sale, or free as part of Goodreads Giveaways program!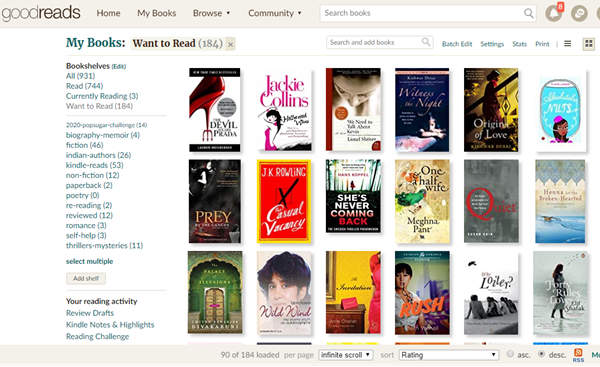 4. Amazon Wish List
As a rule, I dont buy ebooks which cost more than Rs 129. of course there are exceptions to the rule. So, if a book/ebook is not suiting my budget or I'd like to buy it at a later date, I add it in my Amazon Wish List. There is Add to List icon under the Buy box on the right-hand side of any item's product detail page. Adding to Wish List not only keeps all your TBR books at one place but helps you to get alerts whenever there is a price drop on the items placed in the Wish List! Interesting isnt it?
5. Litsy
Litsy is an iOS and Android social media application and website that is based around reading books. It combines the best features of both Instagram and Goodreads. Apart from sharing of a 'blurb', a 'quote' or a 'review', you can also add your TBR books to the To Read section.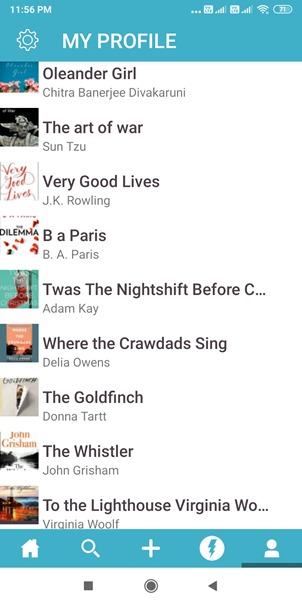 6. List and Productivity Apps
You may add your list of TBR books on list and productivity apps like the Notes on your phone, Evernote, TickTick, Microsoft To Do, Google Tasks etc.
7. Your Nightstand
Keep a pile of books you want to read next to your bed and grab one whenever you want.
So you see, creating and organizing your TBR list is easy.
But what about reading all these books?
If you are keen to get through your reading list and have fun doing it, read 9 Simple Ways to Read More Books This Year
Which of the above mentioned ideas appealed to you? How do you create and organize your TBR List? Do share in the comments below.