9 Simple Ways to Read More Books This Year
How much do you read?
Well, I read a lot! I am the person who is reading everywhere, a few pages here… a few pages there… in a bus, in a train, in the doctor's waiting area, in a queue, in bed, while eating alone and sometimes even in the loo. There are some days (I wish I have more such days!) when I have read from morn to night and have left the bed just for bare necessities. I read all the time, and I love it. You may like to know why I love reading so much. Well, you may check out this earlier post of mine which shares just that!
The other day, a friend asked me in an almost accusatory tone, "How do you read so much?" I'd like to answer that today in this post.
Before, I share my strategies to read more, let me clarify that this is a post for only those who want to read more than their current reading pace but are not able to do so due to various reasons and is for those who want to enhance the quality of their reading experience.
Here are some strategies that I use to read more:
9 Simple Ways to Read More
1. Read what you like
If you are getting back to books because you know it's good for you, or you've challenged yourself to read more, the last thing you should do is pick up a bestseller which everyone is reading. The probability of you abandoning it even before you reach chapter 2 is high if it's not of your liking. Read what you like, not what you're told to like. Pick up an entertaining and engaging book, you will finish it faster and you will bask in the joy of achievement too.
2. Follow the cat rule
It is said that a cat carries her newborn babies wherever she goes. You should do the same with your book. Take books with you everywhere… to work, business meetings, shopping, travel, vacations even when resting on a couch in front of the TV. Have a book with you. Sooner or later, you'll open it and start reading and in no time you will be hooked to the book and would read even if you have a free time of 5 minutes. Reading like any other thing requires practice and dedication.
3. Make a public commitment.
There is this social norm called the rule of commitment. According to this norm, you typically feel obligated to follow through with something after you have made a public commitment. Making an open pledge would give you internal psychological pressure and of course you have that social pressure too, to stick to your commitment. It is an effective way of bringing urgency back to your goal. So sharing your goals on Goodreads or your blog is a good way to make your resolve to read more a bit stronger.
4. Track your reading
Our brain loves lists. Mine is truly, madly and deeply in love with lists. Keeping a record of what you have read will not only give you instant gratification but will give you a renewed sense of purpose too. I have an excel sheet where I track the books read for the various prompts of the various reading challenges. Also, Goodreads is a good way to record your reading. A tip – Record the entry immediately after you have finished reading the book. This link for Reading Log – Spreadsheet will get you started and you can make your own variations too. The idea is to record your reading!!
5. Buy cheap books
Now don't get me wrong here. You know that, books cost money and if you plan to read a lot, your book budget is certainly going to shoot up. Buy books online to get better discounts. Amazon is my go-to store for books and it has changed my book buying habit completely. I keep adding the books I want to read in my wish list on Amazon, so whenever there's a price drop, I get a notification for that. Also go for Kindle books which are economical than physical books. Join groups like eBook Deals for Broke Bibliophiles – India or Book Deals for Broke Bibliophiles – India and get information on some amazing book deals. Buy second hand books from sites like BookChor and of course, join a local library.
6. Get your priorities right
If you want to read more, reading has to be high on your priority list. So, it has to come before watching TV or spending time on Facebook/ Twitter or simply wasting time.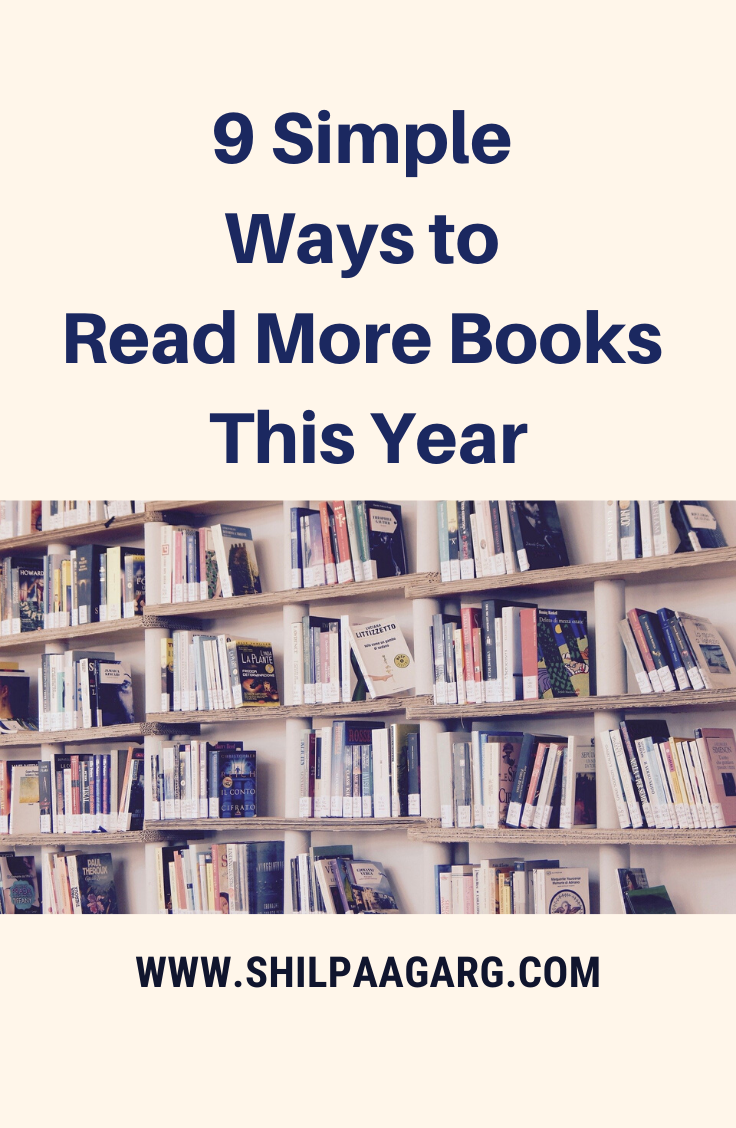 7. Find a few trusted, curated lists
We all have different likes and dislikes. The genres and authors your friend reads may not interest you. Also there are SO MANY books to read, and you can't possibly read all of them. So, it makes sense to pick books which aligns with your taste. There are quite a few curated lists to follow like Amazon's list of 100 books to read in a lifetime or 74 Essential Books for Your Personal Library or Bill Gate's Reading List. You can find a lot many such lists on the internet. I follow some voracious readers on Goodreads who have reading taste similar to mine and pick books from their reading lists.
8. Do reading sprints
There are times when you don't feel like reading or have poor attention span. During such times, set a timer of 15 minutes on your phone and read for these 15 minutes. Take a 5 minute break and go for the next reading sprint of 15 minutes and you would have better reading focus and of course your reading mission would be accomplished too.
9. Set aside some specified time for reading
This helps make reading a habit. While I read anytime and anywhere, but I always read for 30-45 minutes before sleeping.
Leafing through a few pages all through the day adds up to a lot of reading and before you know it, reading will become a part of your daily routine.
Happy Reading!
These are my strategies to read more. Which of these would you like to adopt? Would you like to share your strategy to read more?