Spine Poetry – 12

The concept of book spine poetry appeared in 1993 with Nina Katchadourian's Sorted Books project. Katchadourian began collecting interesting titles and arranging them in clusters so the spines could be read like a sentence(s) or poem.
Katchadourian's Sorted Book Project manages to become more than an experiment in medium. Her playful photographed poems are sometimes cleverly arranged jokes or amusing images, but at other times, they are short and stunning thoughts on the nature of art and artists. You can see all the series at her website.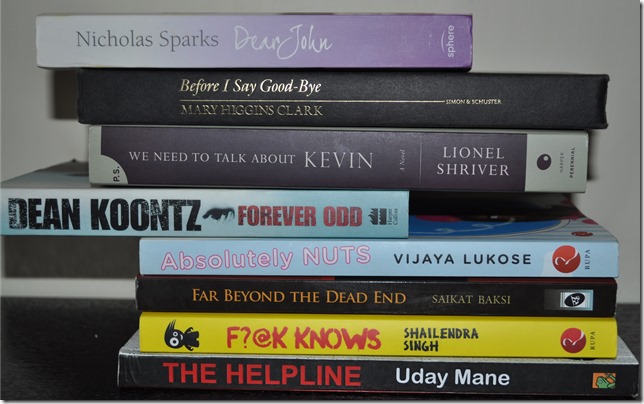 The poetry (or rather the story, as I would like to call it) with book spines should be read as:
Dear John,
Before I Say Good-Bye, We Need to Talk about Kevin.
He is Forever Odd and Absolutely Nuts. In fact has gone Far beyond the Dead End.
F?@k Knows (which means, I don't know), is The Helpline, the answer?