Zzz #AtoZChallenge @AprilA2Z
My theme for this year's Blogging from A to Z April Challenge is Cultivating Happiness. Today, Z is for Zzz.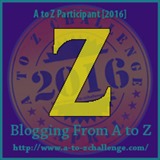 Your body is talking to you. Are you listening to it?
If you don't, it will sabotage your waistline and your health.
Do you want the notorious hormones to wreak havoc on your body?
Follow your body to sustain your sharpness and the prowess to write 55-Fiction that will not make people yawn and gasp.
A Word to the Wise
Sleep is the chain that ties health and our bodies together. Sleep is a necessity. It reduces stress and anxiety and keeps you all refreshed and alert and happy!