#UnwrapChristmas with Christmas Cake
It only takes a spark to get the fire going.
And soon all those around can warm up in its glowing.
That's how it is with God's love,
Once you have experienced it
You want to sing
You feel like spring
You want to pass it on…
A few of us gathered together for Secret Santa tidings, divided by names and united through a common Christmas spirit of sharing. And it is in this spirit that we bring this blog chain to you. I am celebrating the spirit of Christmas with the #UnwrapChristmas blogpost chain.
The arrival of Christmas is heralded by the smells of exotic spices, nuts and goodies in the oven. Yes, the most joyous and magical time of the year is synonymous with the festive cakes and bakes. I was introduced to Christmas baking as a kid by our Christian friends who used to bake Spiced Gingerbread Loaf and Rum Cake during this time. I remember how their home used to smell of candied peel, dried fruit and whiskey/rum.
Since, the last couple of years, I have been baking different loafs and cakes for Christmas, so I thought of sharing the recipe of my favourite Christmas Cake with you here. Christmas cakes are usually rum-oozing bakes with fruits and nuts soaked in the liquor for at least a month, but here is a Christmas Cake with rum/whiskey soaking indulgence in a jiffy.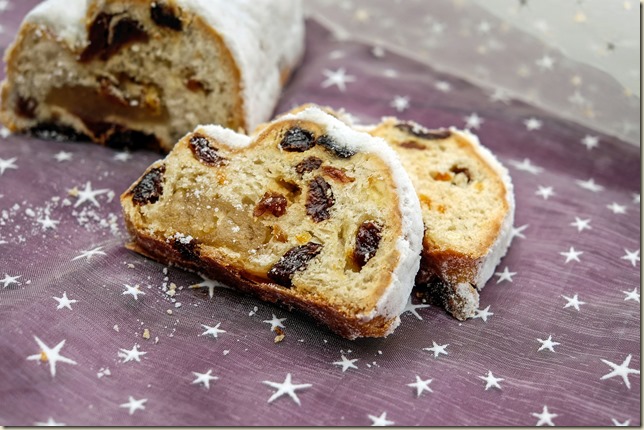 Ingredients
1/2 cup raisins
1/2 cup chopped dates
2 tbsp brandy
11/2 cup all purpose flour
11/2 baking powder
1/2 tsp cinnamon
1/4 tsp nutmeg
150g butter, chopped
1/4 cup brown sugar
2 eggs, lightly beaten
3/4 cup sweetened condensed milk
1 cup dark chocolate chips
1 cup chopped candied fruits
1/2 cup blanched almonds
Directions
1. Preheat oven to 180°C. Grease 2 (25cm x 8cm) bar pans, line bases with baking paper.
2. Combine raisins, dates and brandy, let them stand for 30 minutes.
3. Place sifted dry ingredients, butter and sugar in food processor, process until combined. Add eggs and condensed milk, process to combine.
4. Fold dry-fruit mixture and dark chocolate chips into cake mixture, spoon mixture into prepared bar pans. Top with combined candied fruits and almonds. Bake for 60 minutes or till the skewer comes out clean. Cool in pan before turning out.
5. Drizzle some glaze over it, I prefer without it though.
Go on and enjoy this  Christmas cake which is rich and spicy and bursting with boozy fruit.
May your heart and home be filled with all of the joys the festive season brings. Merry Christmas and a wonderful New Year!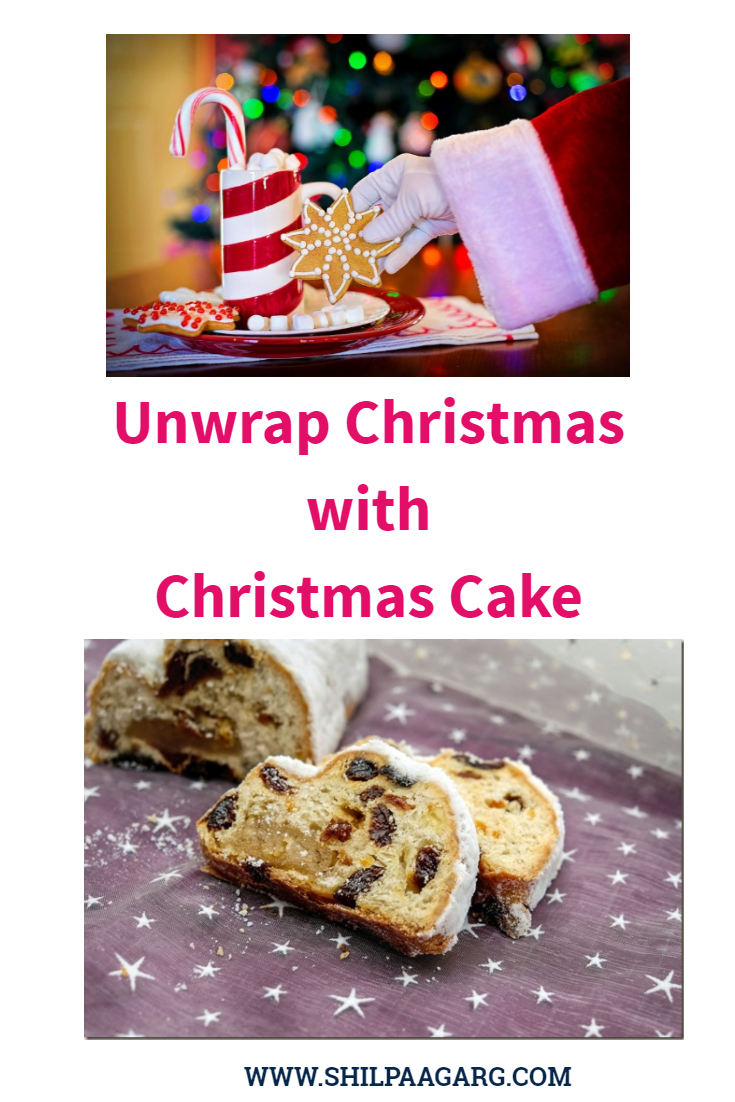 This is my third consecutive year of writing for #UnwrapChristmas blog chain. My  earlier posts are
#UnwrapChristmas with Secret Santee!
#UnwrapChristmas Doing a Little Something Extra
I now invite Esha Mookerjee-Dutta to carry forth the Christmas cheer.