Half Year, Already?! #ZombieBlogHop
Six months into 2019 and I can't believe that it's half year already! Wasn't it just like yesterday we started 2019? I think 2019 is flying by too fast. Way. Too. Fast! I am not complaining though! These last six months have been a mixed bag for me, like how it always is, for everyone! But I am going to focus only on the positives. By the way , Focus is my WOTY for 2019! So, here I am sharing some highlights for every month of 2019.
January
Over the years, my interest in exploring and adding spiritual dimension in my daily life has increased. I practice Reiki and Vipassana – Meditation which help me to quieten my mind and calm my senses. And earlier this year, Chicky Kadambari introduced me to Buddhism. During one of our conversations, she shared how Buddhism is changing and shaping her attitudes towards life and that really piqued my interest. Thanks to her, I started reading and practicing the principles of Buddhism which resonate with my heart and feeds my soul. I am experiencing the connection and the vibrations that are subtle but becoming more and more clear. My experience with Buddhism is a mere shallow dive into the waters, but I am glad that I took this dive.
February
Reading has always been a huge part of my life. And in the last few years, the desire to read more and more has intensified and that's the reason I have been taking up so many reading challenges. I read a record number of 11 books in February even though it is the shortest month. I read This is Going to Hurt by Adam Kay, The Rosie Project by Graeme Simsion, The Old Man and The Sea by Ernest Hemingway, Gone Girl by Gillian Flynn among others. Reading is food for the soul and my soul did a happy dance this February.
March
I am a big sucker for meaningful movies and web-series. This March, I binge watched the shows on Netflix and Amazon Prime. Reasons? I had some free time and the knowledge that my days of 'extended me-time' are numbered as Aaryan was coming back from his Boarding School in April. Yeah, I am such a bad mom! (He completed his schooling this April and is now ready to enter the new phase of College life.) Also I cannot watch the programs on Netflix with him. Read about it here. So, I watched all the episodes of Made in Heaven and Delhi Crime at one go. I also watched some wonderful movies like What Will People say, Andhadun, Manto, Love & Shukla, Evening Shadowsm Once Again, Soni, Qarib Qarib Singlle etc.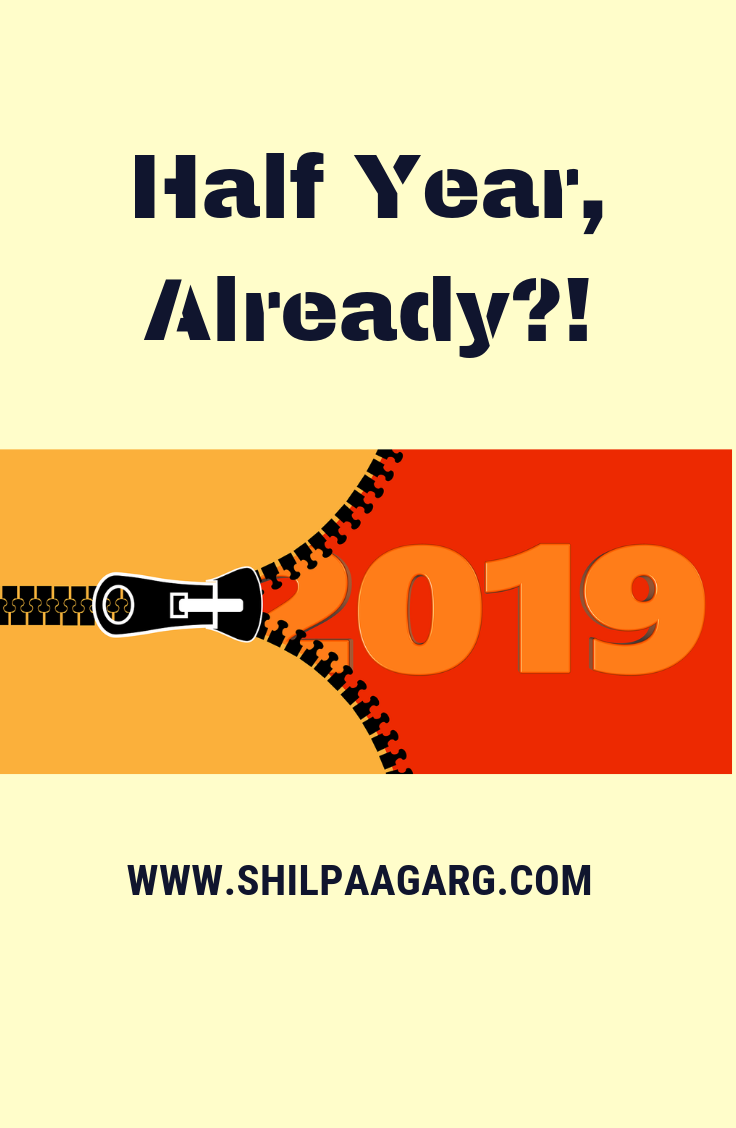 April
April is synonymous with Ato Z Challenge and it was my 7th consecutive year of participating in this mega everyday (nearly) blogging challenge. This year, my theme was 'All About Food' and think I came up with some good posts. LOL How pompous that sounds!!
May
May was busy with work travel. I travelled for nearly 20 days this month and loved every moment of it. As part of work, I did white water rafting on the Ganges thrice. During one of the rafting expeditions, when I was in midst of a Grade 5 rapid, I experienced that exhilarating feeling and there was this sudden realization that I TRULY love water and adventure sports. It was such an Aha! moment!
June
June has so far been a good month. Touch wood! Aaryan's class 12th results has been good and he has been selected in a course and college of his choice, so we all are in a happy and relaxed state of mind. Aaryan and I are spending a lot of time chatting, listening to music and watching re-runs of FRIENDS, The Big Bang Theory, Everybody Loves Raymond etc. We have been cooking together and he's helping me in other household chores too. KG and my sisters believe that I am domesticating him. But I believe these are basic skills that will help him in the long run.
We are six months into the year, and it's been a good year so far, but I am hoping to finish the last six months off STRONG!
How have been the first six months of 2019 for you. Do share in the comments below.
I received this tag from Holly and I am passing this on to Aesha
24 bloggers have got together to celebrate six months of 2019 from June 17-19. In their own unique ways, they will share what the last six months mean to them. In these 24 posts, you will find a lot of joy and hope. Not to forget, some humor and stories too. So don't forget to read these all and share some love.
You are invited to the Inlinkz link party!