10 Essentials to Include in Your Bali Packing List
Bali is a dream destination. From the majestic temples and historical monuments to thrilling adventure sports, beautiful beaches, great food, interesting sights, and shopping hubs, Bali has something to offer to all types of travellers. It's easy to book a flight and a hotel, but the most daunting part of it all is the packing for the trip, especially when the travel destination has a lot to offer and explore. Though, a packing list is something very individualistic, but here's a list of 10 essentials to include in your Bali packing list.
1. Sunshine Essentials for Bali – Being a tropical country, Bali doesn't have a summer or winter, but rather a wet and dry season. Cotton and linen are good options that let your skin breathe in Bali's tropical humidity. Strappy, loose-fitting and breathable T-shirts, tops, shorts, skirts are a must. Sunglasses, sun-blocks, hats will protect you from the soaring temperatures.
2. Travel Document Essentials for Bali – Passport, tickets, travel documents, maps, emergency phone numbers, credit cards, debit cards, traveller's cheques are a given. Last but not the least, make sure that you have a travel insurance for your Bali trip to cover and secure you from the unexpected.
3. Stay Dry Essentials for Bali – Sudden and short heavy downpours are frequent in Bali. Raincoat or rain poncho, waterproof dry bag, quick dry towels will ensure that you are not caught by surprise by the rains in Bali.
4. Adventure Essentials for Bali – There are numerous treks, cycle tours, boat and diving tours, ATV rides, water sports, river rafting, scuba diving etc to add a tinge of thrill to your Bali vacation. Athletic/sports dry-fit clothes and a solid pair of sandals / sport shoes or water-proof shoes would be ideal.
5. Night Life Essentials for Bali – Bali has numerous night-clubs for some rocking evenings. You might like to pack some evening dresses and a pair of dancing shoes.
6. Cultural Sensitivity Essentials for Bali – When visiting temples, sacred sites, ceremonies or dance performances, both men and women must cover their shoulders and knees. Packing a sarong and a scarf is a good idea.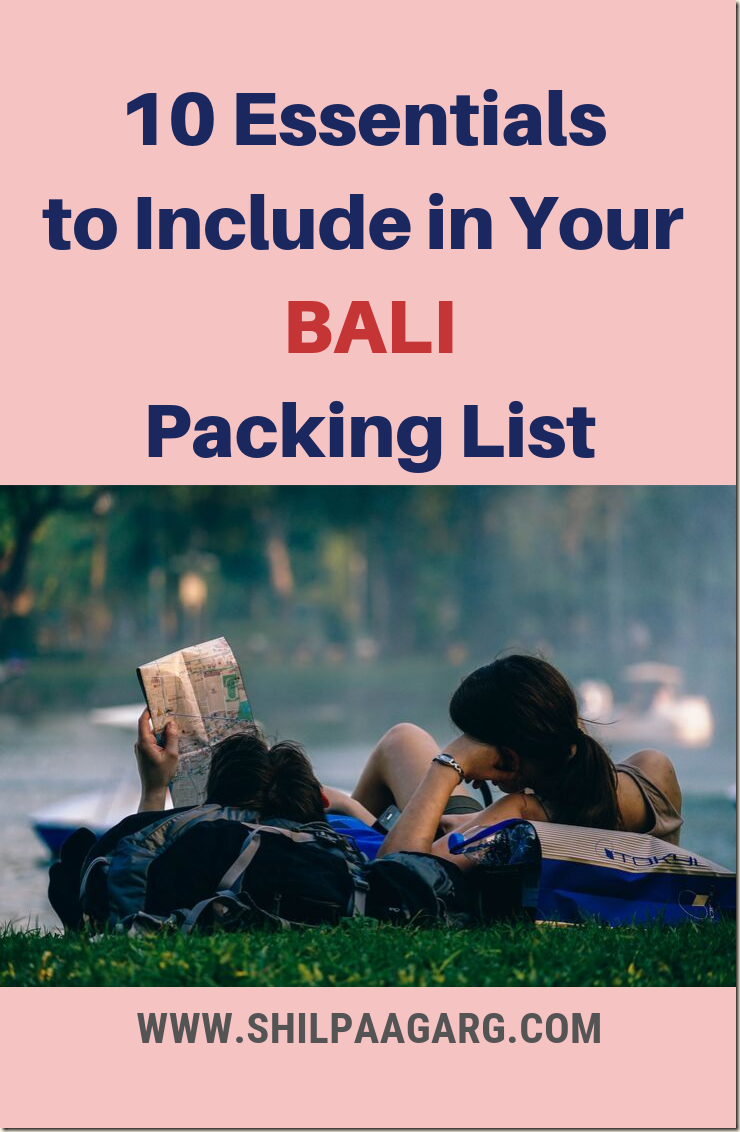 7. Sustainable Travel Essentials for Bali – Like most tourist destinations, plastic menace is huge in Bali. To be a responsible traveller, avoid single use plastic and carry your own re-usable straws, water bottle, cutlery set, cloth bags etc.
8. Toiletry Essentials for Bali – Apart from your regular toiletry kit, do not forget to pack mosquito repellents, small first aid kit which should have tablets for diarrhoea and indigestion among other things.
9. Technology Essentials for Bali – This is truly individualistic. For me, my laptop, Kindle, camera, power bank are an absolute must. You may carry universal plug adaptor for charging your gadgets conveniently.
10. Reading Essentials for Bali – Lonely Planet Bali & Lombok (Travel Guide), Bali – Zen Traveller: A Quick Guide (Zen Traveller Guides), Bali: The Ultimate Guide to the World's Most Spectacular Tropical Island (Periplus Adventure Guides) will guide you to explore the Balinese history, culture, touristic destinations, and food and also will provide you with many travel tips for a trip to Bali. And of course, you may read Eat, Pray, Love by Elizabeth Gilbert which is partially set in Bali and is a great book to rediscover and reconnect with your true inner self.
Why buy Travel Insurance for Bali from Digit?
On my Bali trip, my friend recommended me to buy a Travel Insurance policy from Digit Insurance. I bought the same and really liked the offering so sharing few highlights of the plan here:
It's affordable – A $100,000 plan for 2 people for 7 days in Indonesia cost around 1000 INR, which is not even 1% of the total cost of the trip.
No deductibles when you make a claim – You don't pay anything at all when you make a claim – it's all paid by Digit.
Covers the 1-day adventure activities Bali is famous for – The coverage includes any injury during adventure sports / activities such as scuba diving, bungee jumping, sky diving etc (Only single day activities done as a hobby are covered, courses etc are not covered).
File a claim with your phone – No paperwork, no running around. You can simply file a claim through your phone. Just give a missed call and the Digit team will call you back so no international calling charges!
Whew, that's everything! So, pack these items in your bag and get on to your flight with an open mind, a friendly heart and a spirit of adventure. Bali is waiting for you!
Have you been to Bali? How has been your experience and what would you recommend if one goes for a vacation at Bali?