Xenocide #AtoZChallenge @AprilA2Z

You might've heard that blood is thicker…
But do you know that nobody fights as brutally as your own blood?
Yeah, they know what makes you tick and all that…
And you know they fought for me too.
They fought tooth and claw to get their honor from death by wiping clean my husband's clan.
My theme for this year's Blogging from A to Z April Challenge is Crime Stories in 55 Words.
Today's story, X is for Xenocide…
Xenocide is "the deliberate mass destruction of one group of people by another group or by a regime, with the intent to eliminate a large part of the targeted group due to its ethnicity, religion, race, political belief, social identification or cultural heritage, or due to rivalry over scarce resources."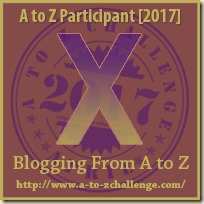 You can check out my A-Z posts thus far by clicking on a highlighted letter!